This post may contain affiliate links, which means I make commission (at no cost to you!)
if you purchase through the link. Read our affiliate disclosure here.
Do you ever leave the grocery store & think "how in the world did I just spend SO MUCH MONEY on this week's groceries?" I know I do! And it's usually just the two of us! Sometimes I feel like it would be cheaper to get take out- even though I know it probably isn't, and it's probably not going to be as healthy as cooking at home.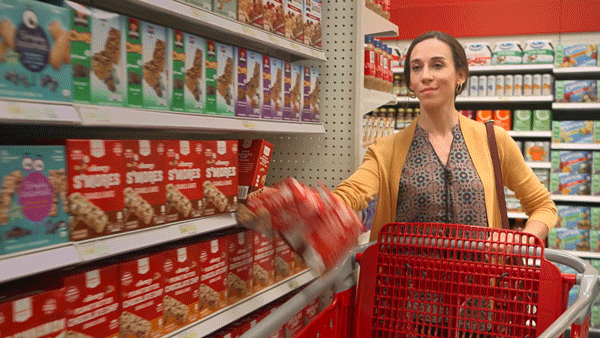 Why So High? Steps to take when your grocery bill is out of control.
Let's take a look at some reasons our food bills seem to get higher & higher.
1. Your "Weekly Rotation" is Costing You.
If you are stuck in a rut of "meatless Monday, taco Tuesday, beef on Wednesday, chicken on Thursday, pizza Friday, pork chop Saturday & chicken Sunday" not only is that super boring, it's probably costing you cash! Variety is the spice of life, so mix it up a bit by shopping the sales.
2. Food Waste is Costing You.
When you think about how much food you throw away when you clean out your fridge it's probably a lot of food! I know I just threw away leftover Chinese takeout, jalapeno popper dip and the leftovers from the roast with mashed potatoes I made last week. It's ridiculous, and I know I can do better. All of those items would have been great for a leftover night or lunches.
Now let's talk about the other food waste that adds up to a small fortune- PRODUCE. I was constantly throwing produce away until I started making a conscious effort to use up what I had on hand. Now I will mix up all of the veggies that are left & roast them as a side. It's surprisingly tasty! If a recipe calls for 1/2 of an onion I will chop the whole onion and freeze the leftovers for another recipe. I used to throw lettuce away all the time. Now I whip up a salad a few days in a row so we're sure to eat it.
Which brings me to my next tip:
3. Shop Your Pantry (and freezer and fridge) Before the Grocery Store.
Having a running list of what you have in stock is a huge money saver! For instance, for some reason I have a surplus of rice. I have no idea why I was on such a rice kick when I was buying it all the time, but here it is! To use it up I've been making one or two dishes a week that rice goes with. Adding the roasted veggies to the top of the rice is delicious, too! (And cuts down on the amount of added butter we use.)
Using what you have in stock will save quite a bit over time.
Convenience is Costing You.
Yes, baby carrots are cute & easy, but the full sized ones are cheaper. Lunchables are fun for the kids, but pricey for you. The "DIY" version of your favorite convenience foods will save you a lot of money.
4. Staples That Aren't Staples Are Costing You.
Staples are food items you need to whip up something fast or basic ingredients you routinely use in your day to day cooking. Think eggs, flour, sugar, pasta, canned tomatoes, butter, potatoes. Staples are not items like RXbars, Sargento Breaks, Uncrustables and skillet meal starter kits. Those may seem like staples because you rely on them and eat them all the time, but they are still convenience foods and they are driving up your grocery bill. Start thinking of these foods as "treats" that you have once in awhile or that you have on hand for when you truly have no time to prepare something else.
5. Weekly Grocery Shopping is Costing You.
What would happen if you didn't shop every week? Of course you'll need to stop at the store or farmer's market for fresh produce, but nonperishable foods, meats, most dairy and all frozen foods can be purchased well in advance. Every time you enter the grocery store it costs you. Make a master meal plan for 2 weeks at a time, buy everything that won't spoil at once, and ONLY hit the produce section to restock the produce items you need for current meals.
6. Shopping Hungry and With Family Members is Costing You.
Be sure to eat, even if it's something light, before heading to the store. This really does help avoid impulsive purchases because the food "looks sooo good!"
Whenever possible shop by yourself. Kids & spouses offer up way too many opinions on what they want and "need" and all of those extra requests add serious dollars to your cart.
7. You're Shopping at the Wrong Store.
Yes, it may be more convenient to shop at the store on your route to or from work, or the store closest to your home, but that convenience may come at a cost. Compare circulars for all of the stores you have access to for a few weeks to see which one is truly the best price.
Do you have an Aldi in your area? If you do and you're not currently shopping there you should definitely check it out! Their prices are lower than Walmart and every other grocery store I've shopped at. The food is fantastic, their organic produce is reasonably priced, and they have a money back guarantee for anything you don't like!
BONUS – Three Easy Ways to Stick to Your Budget & Save Money:
Shop with cash. There isn't much other than the flop sweat of panic over not having enough money to cover your groceries to make you skip unnecessary items!
Download apps for the stores you shop most frequently. Deals, specials and circulars will be on the app. I also use the Flipp app all the time because it's every circular in your area and it has a search feature.
Check the clearance areas of your store, especially for meat that is nearing the expiration date. You'll often find $dollar off coupons attached for huge savings & meat can be frozen for use after the expiration date. If you can't find your store's clearance meat area ask in the butcher shop. They should know where it's stashed!
10 Sneaky Ways to Save Money Each Month (This post shows you how to use the money saving app Acorns to save your spare change electronically! It has an awesome savings calculator to show you just how much you can save from spare change over the years.)
5 Totally Awesome (and Totally FREE) Money Management Tools
Money Matters: 7 Things Millenials Can Learn From Talking to Their Grandparents
10 Tips to Save Big at the Grocery Store
For more money-saving tips and ideas, check out our Frugal Living and Money Matters Pinterest boards. They are loaded with hundreds of money-making and creative budgeting ideas from other top bloggers.
---
Sign Up to Receive More Posts Like This One
Sign up to receive more posts like this one!