This post may contain affiliate links, which means I make commission (at no cost to you!)
if you purchase through the link. Read our affiliate disclosure here.
A couple weeks ago my husband called me from work and asked me "do you want the good news or the bad news?" Me being me I said, "the bad…" The bad news? He had to go out of town for work. The good news? "We're going to Vegas," he said! Not at all what I was expecting on a wintery Tuesday morning, but I was game!
Vegas has been on our "to do" list. It's a destination my husband has wanted to visit for years. We talked about it for his 40th, his 50th, his 55th… you get the picture, and I do feel a little bad that it was not a priority of mine to get him to Vegas, but I really had no desire to go.
Let me tell you how wrong I was!
Vegas is AMAZING. I cannot believe I've been avoiding it for the past 16 years. Even more surprising? I can't WAIT to go back! Seriously cannot wait. It was that fun. And I'm not saying that because we won big at the casinos. Just the opposite, in fact. <whoops!> I never professed to be a gambler, which is why I never wanted to go to Vegas. I also assumed it would be like Wisconsin Dells or the US side of Niagara Falls, or the Jersey shore boardwalk, or some other touristy-and-slightly-tacky destination that is fun for awhile, but not exactly somewhere you want to stay longer than you'd planned.
So what did we do while in Vegas? Well, Ron arrived on Monday and had Monday night through Thursday afternoon to hang out with the guys (aka his coworkers he gets along with famously) before I arrived. This was a "bucket list trip" for my husband, and learning how to play craps was at the top of his list. Me? I just wanted to see the sites, so it was good that he had a few days without me. I had a few hours on Thursday afternoon and the weather was *fantastic* (mid-60's in Vegas- when I left Chicago it was a blustery 12F!) and outdoor dining is easy to find. I was perfectly happy with a cocktail, my book and some people watching.
The buildings (which are almost entirely hotels with casinos) are amazing. The architecture is second to none, and I say that coming from Chicago where architecture is also amazing. I just could not get over the detail on the hotels! You just don't see this very often in modern buildings, but Vegas spares no expense.
Accomodations – The Wynn Resort & Casino
We stayed at the Wynn Casino & Resort, which turned out to be the most beautiful hotel & casino we saw while we were in Vegas. We made an effort to pop into most of the casinos we would be interested in staying in if we return to Vegas and in the end decided that the Wynn is the place to be. The rooms were gorgeous- not to mention everything in the room was Alexa enabled! If you said, "Alexa, please turn on the lights" the lights would go on. If you said, "Alexa, please open the drapes" the drapes would open. My room photos don't do it justice, so the room photo below is from the hotel website. All of the resort guest rooms must look the same because our room looked just like this. The room was beautifully decorated in shades of gold and creamy whites. The bed and linens were soooo cozy! It was hard to drag myself out of bed in the morning! It was truly the most perfectly appointed hotel room we've ever stayed in and we are huge hotel snobs, so that's saying a lot. If you are looking for a five star casino resort experience Wynn Las Vegas is where you want to be.
Can you believe this bathroom? I just ordered everything for our upcoming bathroom renovations and I can tell you now they won't look anything like this! I've never seen a bathroom I'd qualify as "breathtaking" before this trip.
(Photo credit: Wynn Las Vegas)
As you can see, I even managed to work a little while my husband was at his conference. What a view! My work doesn't usually feel like work, but working from this beautiful setting looking at two of my favorite things (cities & mountains – if there was a lake it would have been my perfect trifecta!) was probably my best work environment yet.
On Friday morning I woke up super early at 4:30am (6:30am is my wake-up time in Chicago, darn internal clock!) and was so glad we didn't say "Alexa, please close the drapes" before bed. I always find city lights to be mesmerizing and I must have stood at the window and stared for several minutes. The black void in the background is the mountains!
The resort grounds were beautiful and the lobby and public areas were stunning. From the marble floors to the decorative ceilings everywhere you looked was more amazing than the last spot. These enormous floral art installations are made of over 110,000 flowers and took over 3,500 work hours to construct!
The merry-go-round actually goes 'round!
Every hotel casino we popped into was decorated for Chinese New Year and had decor themes heavily influenced by Asian culture. Each display was gorgeous!
Can you believe this pool? Next time we visit, if time allows, I'd love to spend a day relaxing by the pool in a private cabana- especially if we turn another work trip into a weekend trip! (Photo credit: Wynn Las Vegas)
A good book or podcast, some sun and a lychee blossom martini by the pool is my idea of a great day. Can you taste the lychee? It was deliciously sweet, but would have been sweeter by the pool…
And last, but not least, the casino itself was first-class as well. It was not overly crowded or full of obnoxious spring breakers, which was my fear of Vegas in general. My husband learned how to play craps and I *loved* playing roulette! It was so much fun. While the slot machines were not our friends, we did a pretty good job at table games. Don't get me wrong, we absolutely did not win, but we almost broke even. My husband would lose at craps, hand me a $25 chip and I'd win a couple times at roulette, and he'd lose at craps, hand me a $25 chip and we'd repeat the process. My not recommended or asked for advice? Always bet on black. 😉
What surprised me most was that you could smoke in all of the casinos! Everywhere else in the country you can't even find a restaurant to smoke in anymore, so I was pretty surprised. While the smell of smoke was evident at most of the other casinos the Wynn must have an exceptional ventilation system. I didn't even notice the guy smoking at the craps table we were playing at until we walked away!
Food for Foodies
I'm not going to lie, my first thought when I learned we were going to Las Vegas was how amazing the food would be. I actually asked for recommendations in one of the Facebook groups I am in and there were soooo many suggestions I knew 1) we were in trouble, and 2) we could go to Vegas for 2 weeks and not make a dent in the food scene! The restaurant choices are comparable to Chicago and New York and you pretty much cannot go wrong. We decided to wing it after spending time walking the strip that is along Las Vegas Boulevard Thursday night and Friday afternoon and evening and just land wherever looked good and it worked out great- especially for someone like me who researches restaurants and makes reservations like a crazy list-maker. 😉
Thursday night we had dinner at Mon Ami Gabi, which is perfectly situated across from the Bellagio. If you sit outdoors (I *never* pass up a chance to dine alfresco!) you can see the Bellagio fountains water shows. The fountains are set to music and the water show is different for each song. It was really cool! We've eaten at Mon Ami Gabi in Chicago before so we knew it would be fantastic. Dinner was excellent and the fountain shows were fun to watch while also people watching on the Vegas strip.
As a cheese lover with a grazing board company (shameless plug for business, Brick and Brie,) you know I have to order the charcuterie/cheese board almost everywhere we go and this one did not disappoint! The fact that it had goat and blue cheese worked out perfectly for me since my husband is strictly a cheddar guy. His loss, this was the BEST blue cheese I've ever had.
Next we shared a delicious chilled seafood platter with with lobster, jumbo shrimp, salmon tartare, and market oysters that was out of this world! Since hubby had steak Monday, Tuesday & Wednesday, I thought it was time to give his arteries a break. Neither of us do well without the other… 😉
Friday, after walking alllll the way down the strip and doing a little shopping, we had a late lunch at Herringbone at the Aria hotel. It was the only place nearby with outdoor dining in a quiet setting off the strip and I am so glad we happened upon it. The outdoor patio was lovely- spacious and quiet, with little bird friends all around. We shared seafood tacos and sliders that were very good and definitely took the edge off our hunger! Duck fat fries? Yes, please.
This is also where I discovered my favorite cocktail of all time: the Stone Blossom. Oh. My. Word. It was so enjoyable! I am on a quest in 2019 to find a "signature cocktail" for myself. After trying gin and whiskey drinks, I need to give it up and stick with what I know: vodka. This drink is made with Ketel One Peach and Orange Blossom flavored vodka, which you can find at Target for about the cost of this entire drink. (Did I mention Vegas is incredibly expensive? Well it is. My favorite travel phrase of "take half as much clothing & twice as much money" is Vegas in a nutshell.)
I'm determined to replicate the Stone Blossom cocktail at home!
By Friday night, and after our late lunch, we were exhausted! Instead of going out, I made reservations at the adjoining Wynn property, the Encore, for dinner. Again, dining had to be outdoors! (It really is one of my favorite things.) We ate at Jardin, which was casual, tasty and perfect for a 9pm dinner. (Photo credit: Wynn Las Vegas)
We had steaks for dinner, which were phenomenal, but the real star of dinner was the skillet cornbread creme brûlée. Yes, it was side dish creme brûlée. Yes, it was amazing. Yes, we've been talking about it all week. Yes, I've ordered this kitchen torch.
My oldest daughter is a pastry chef-turned-legal secretary, so anytime we go out to dinner and there is something interesting and different on the menu I think she would appreciate, we order it. That was the case with this edible flower pot! Even the pot was edible, as were the pansies, and it was as good as it looks! We hardly made a dent in it. 🙁
Next time I hope we can incorporate breakfast into our trip because I'm sure Vegas does not disappoint in the breakfast department. I was really hoping to try Hash House A Go Go! (Which is funny because there is a Chicago location…)
The Wynn has a great little coffee shop that rivals Starbucks, Biggby, Pete's, etc. so that was nice. Interestingly, our room itself did not have a coffee pot, but it did have a minibar and snacks/supplies. A coffee pot would have been nice, though…
The Strip
On Friday, after my husband finished up at his conference and did some work that had been piling up from his actual job, we did some more site seeing of various hotels and casinos along the strip. So. Many. Casinos! It's crazy. We even saw an Elvis impersonator and some very scantily clad young ladies luring the guys into whatever casino/show/club/bar they were promoting. I reminded Hubby that he has Monday through Thursday afternoon to do whatever he wanted, so that ship had sailed! He did not take advantage of "what happens in Vegas…" 😉
Sights along the Vegas strip:
Caesar's Palace
Paris – at night & during the day.
The Mirage

Harrah's Casino

Bellagio and Caesar's Palace

Bucket List x 5
As I mentioned at the beginning of this post, this was a total bucket list trip for my husband. A few years ago we seemed to go through a patch where we lost a few people we were close with over the years. They were young and died entirely too soon, and not in freak accidents or anything either. Their sudden and unexpected deaths taught us life's most important lesson: Life is short. Ever since then we make the most of it whenever we can. Since their deaths we've upgraded an interior cabin on a cruise ship to a balcony cabin, we've taken a sea plane to Dry Tortugas national park, we wave-runnered around Key West, I've been a big girl and gotten on the plane by myself to join my husband at the end of business trips twice now, we've tried to see new places and live life to the fullest, so when the Vegas trip came up I knew we would have to make the most of it.
My husband has always wanted to see the Hoover Dam. I have no idea why, but it's important to him, so it's important to me. While talking about renting a car to see the dam, we started talking about trying to fit driving to the Grand Canyon into this trip as well. Well, there really wasn't time for al of that, since we only had about 8 hours on Saturday to get it done.
Enter the helicopter tour.
YIKES. This is NOT my thing, although it was my suggestion. It's all part of my plot to prove I love my husband more. 😉 I get terribly motion/sea sick, which I rediscovered on the sea plane, and then an hour later while snorkeling, and then again while going on the wave runner… Fortunately cruise ships do not make me sick. <yay!!> Of course there is a tour for everything in Las Vegas, including a helicopter tour that leaves at 8am on a Saturday morning, zips you past the Hoover Dam and over to the Grand Canyon where you land and walk around for a bit, and has you back at your hotel by noon. Perfect. It's also SUPER expensive, like everything in Vegas, so I turned to Groupon for a deal. At the time I booked, eBates was offering 6% cash back, so going through eBates to order through Groupon saved us about $144! (You can read all about how we vacation better with Groupon here – we love being able to stretch our dollars into more adventures!)
Hoover Dam & the Grand Canyon
So, we booked our helicopter tour with Maverick Tours and would highly recommend them. Their customer service was amazing, the pilot who flew us to the Grand Canyon, Sam, was awesome and for as nervous as I was in the days leading up to the flight, I was totally calm on the flight. He has 11 years of experience so I felt pretty confident he knew what he was doing!
Sam the Pilot
The Colorado river – isn't it crazy how the water level has gotten lower & lower over the years?! Climate change is apparent when you see photos like this!
Hoover Dam

Hoover Dam

Colorado River – I was surprised to see how muddy the river is in this part of the canyon! Evidently 6″ of sediment run through this section every day, so naturally it's going to be muddy. This is not the section you see in all of the white water rafting photos!
Our helicopter

Grand Canyon

Us – Cheers with our mimosas! The pilot snapped this photo of us. There are not many photos of us because I hate photos, but this one is okay…ish… Once our helicopter landed on the bluff we were able to wander around a bit. The scenery is amazzzzing.
It was really neat to see succulents growing in their natural environment!
When we landed on the bluff the tour company sets out champagne and snacks. I bought a bottle of orange juice that morning because while I don't care much for champagne, I am not one to turn down a mimosa! Cheers to an awesome whirlwind trip!
Old Vegas
No trip to Vegas is complete without seeing Old Vegas! We had a little bit of time left after the helicopter tour so we decided to check out Old Vegas. Once there it was exactly the Wisconsin Dells experience I was dreading. I'm glad we saw it, but I definitely don't need to see it again. The highlight was these amazing street performers and a little section of the area that was shops & restaurants made out of old shipping containers.
If you see Vegas with kids, the shipping container park has an awesome park and a huge "treehouse" for kids. I'd definitely take a break from all of the hoopla of Vegas and unwind with the kids here! We ate at a great little restaurant, too, called Downtown Terrace.
And that's it! Two days in Vegas with little to no planning was an awesome & unexpected break from January. I was honestly shocked by how much I liked Vegas! I hope we have an opportunity to visit again someday. My only regret is that we didn't make it a point to see Vegas years ago!
On the list for the next time:
See a show or two- I wish we'd had time to see one of the Cirque shows, but we just didn't.
Hmmm… I guess there's just that one thing!
For now I am just elated that my husband got to cross five things off his bucket list: Vegas, craps, helicopter ride, Hoover Dam, Grand Canyon.
This is how happy I am!!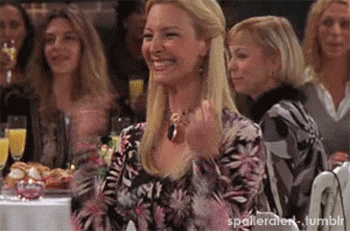 Travel Tips & Tricks
Do you need a passport? It's kind of important! US residents can check out this article on obtaining (or renewing) a passport.
The best travel advice I have ever received is "take half as much clothing, twice as much money." Ain't that the truth?! I am a chronic over-packer and adhering to this has been a challenge. However, on this trip, which was just about 2.5 days, I was able to pack everything I needed in a backpack. (Which was great because the "bargain" parking lot my husband found near the Chicago airport was about 42 miles walking distance from the actual airport…)
The second best travel advice I have ever received is that if you are traveling with a group or another couple, build in downtime for yourself or you and your spouse. Too much "together" can take its toll. Nothing says that because you are vacationing together you have to do everything together. If you're a foodie and your friends are not, go out to dinner with your partner. If you want to read and they want to rent wave runners, stay behind and read. This is your vacation, so make it one you have the best time possible during.
Airlines have cracked down on luggage sizes and weights, and the fee for an overweight bag can be astronomical. If your luggage is older, consider upgrading to a set that is guaranteed to be the correct size for carryons and is also lightweight. I bought this Travelhouse 3-piece luggage set for my daughter's recent vacation. The largest piece weighs just 9 pounds, it has spinner wheels and a TSA approved lock. It also comes in several colors, which is my third tip: If you're purchasing new luggage, consider luggage that is a color or pattern – in other words, not black! It will be so much easier to spot your bag on the luggage carousel. This is especially handy when traveling with kids whose luggage you also need to find. No one wants to hang out at the airport checking every black bag that passes by! Is that it…no…is that it…no…I think that's it…nope. A new luggage set can solve a lot of headaches, for a pretty reasonable price!
TSA approved bottles for liquids are another must-have when planning a big trip. These squeezable silicone bottles are 2 and 3 ounces and can be refilled each time you travel. Yes, you can check larger sized containers, but for items you want access to throughout your flight, these bottles are perfect!
Take comfy shoes, even if you think you won't do a lot of walking. You never know what adventures will pop up and buying shoes you already have at home is an expense that is easy to avoid.
If you want to read more about our recent travel adventures, you can check out these posts:
Toronto Time: A Weekend in the City
Daytona Beach: Three Weeks in the Florida Sun
Nashville: The Good, The Bad and The Ugly
And also some of our "travel dreaming" posts here:
Our Comprehensive Guide to Fiji: Everything You Ever Wanted To Know Before You Go To Fiji
Five Amazing Waterfalls You Won't Believe Are In Michigan
I Dream of Iceland: 10 Things to See and Do on Your Dream Vacation
Still need more inspiration? Our Wanderlust board on Pinterest has hundreds of ideas!
---
Sign Up to Receive More Posts Like This One
Sign up to receive more posts like this one!