This post may contain affiliate links, which means I make commission (at no cost to you!)
if you purchase through the link. Read our affiliate disclosure here.
If your bathroom could use a little…WOW, then look no further! These Ikea bathroom hacks are just what you need to perk up your bathroom without spending a gazillion dollars. If a budget bathroom renovation or just a simple perk up is in your future you're going to love these Ikea bathroom hacks!
If you've never been to Ikea it's definitely worth a pilgrimage to your nearest location. My Ikea tip is to take twice as much money as you think you'll spend (because good luck resisting all of the stuff you had no idea you needed) and take the biggest car you have or can borrow. Soon you'll look like these people running to your favorite section. 😉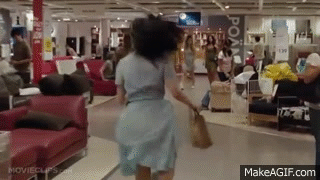 Ikea Bathroom Hacks – Vanities
Bathroom vanities that don't look cheap are so expensive! These Ikea bathroom vanity hacks will give you a beautiful custom look without a custom look price.
Any of Ikea's wood vanities can be updated to your favorite color with just a little paint! Visit The Golden Sycamore for a tutorial- she turned this rather boring vanity into a beautiful custom piece.
The Golden Sycamore
If you are short on space this Ikea bathroom hack may be the solution you're looking for! Check out The Handy Home Girl for a tutorial on how she easily transformed a kitchen cart into a vanity. WOW! (And how much do you love that beautiful blue penny tile?!)
The Handy Home Girl
You won't believe what Project Palermo did to this piece to transform it into an awesome vanity! I am always amazed by the vision people have when they see a blank canvas like this cabinet.
Project Palermo
Ikea Bathroom Hacks – Storage
These Ikea bathroom storage hacks are brilliant! Bathrooms are usually on the small side so anything to add a little extra space works great!
If you're short on storage this Ikea hack is perfect! The best part is these wooden spice racks are $5 each so even if you need 5 or 6 of them this Ikea hack won't break the bank. These would be awesome in apartment rentals, too- heavy duty Command strips are a renters best friend. 😉 You can get a 4 pack on Amazon here.
Pinterest image – if you know the source please let me know and I'll update the link. Thanks!
Head over to Hammers & High Heels to see how this simple ladder from Ikea added extra storage in this small bathroom! It's super easy to add the shelf at the bottom so it can accommodate a storage basket. Another great bathroom hack for small spaces!
Hammers & High Heels
Keep everything "beauty" contained in one spot with a Raskog cart. These carts are *awesome.* I have one n my basement waiting for the perfect spot in my house. (Previously it held all of my daughters baking supplies at her apartment.)
Check out Polka Dot Chair to see what Ikea accessories she used to organize all of these beauty supplies. This is a great hack for bathrooms that are short on space, roommate situations and siblings who have to share a bathroom, but don't share their stuff nicely! (My kids? They did not share as teens! This would have been an awesome cart for them to have in their rooms to roll into the bathroom.)
Polka Dot Chair
This is a bed frame. I don't know how people think of this stuff, but lucky for us they do! This is so smart! And Ikea has tons of these hanging organizational items so you can customize this to meet your needs. Comfy Dwelling has loads of bed frame hacks!
Comfy Dwelling
Ikea Bathroom Hacks – Functionality
We live near two Ikeas. I know- can you imagine? The one in Schaumburg, IL is the mother ship. It is HUGE and it has everything. If we are doing a major project we go there. If we are just making an Ikea run we go to the Bolingbrook location because it's a lot closer to home. My point? I've been to Ikea 74 times and every. single. time. I go I forget to buy the Bekvam stool. It's $20 and comes in natural wood, black, and white. When you see what you can do to customize this very basic stool you'll know why I'm annoyed I always forget to buy one!
No Ikea? No problem! The Bekvam stool is available on Amazon! (It's more $$, but still a good price!)
Isn't this an awesome hack for an otherwise typical stool? Visit Nicolette Tabram to see how she updated these stools. (You can purchase her stencils through her site, too!)
Nicolette Tabram
If stencils aren't your thing you'll love this easy update. Painters tape and leftover paint or a paint sample achieve this look! Visit I Heart Organizing for the how-to. I absolutely love the simplicity of these lines!
I Heart Organizing
I can't tell you how much I love this idea! Your DIY Family took this simple towel rack & transformed it into a focal point with a pop of copper color. You won't believe how quickly they did it, either!
Your DIY Family
Gorgeous bathroom shelving? Why not? If you're looking for a little glam for your bathroom, the Blonde Boss Babe will show you how to turn the Ikea Hyllis rack into a "gold & marble" statement for your bathroom. This has so many uses: storage for towels, display for apothecary jars filled with bathroom supplies, shelves for decor like plants & books, a pretty shelf to hold pretty makeup containers…endless potential!
Things to love about this shelf? It's less than 11″ deep, so it's perfect for narrow bathrooms, and it's $15. Wut?
Blonde Boss Babe
No matter how big your bathroom is I feel like counter space is at a premium! If you have a pedestal sink having a little extra space is a really big deal. House Beautiful shows us how to turn a $13 Mosslanda picture ledge into an above-sink shelf to hold all of your pretties, like perfume and candles.
House Beautiful
So what do you think about these awesome Ikea bathroom hacks? I can't wait to finally remember to buy that stool paint one of those stools for our bathroom! I absolutely love the "gold and marble" shelf, too, but it doesn't fit my decor. 🙁
If you need more bathroom inspiration be sure to check out our Bathrooms board on Pinterest! There are hundreds & hundreds of ideas.
Ready for my DIY inspired home renovations that won't break the bank? Then be sure to click through to our related posts:
10 Bathroom Renovations You Can Totally Afford
12 Farmhouse Affordable Farmhouse Kitchens
---
Sign Up to Receive More Posts Like This One
Sign up to receive more posts like this one!