This post may contain affiliate links, which means I make commission (at no cost to you!)
if you purchase through the link. Read our affiliate disclosure here.
If you are hosting Thanksgiving, you know how hectic the day can get! When we host Thanksgiving we do things a little differently- we keep the appetizers simple (or suggest others bring appetizers) and I try to prep as much as I possibly can in advance. Then, on Friday, we have what we call "Appetizer Friday" and we make all of our family's favorite appetizers! It's become quite a tradition and it means we aren't all completely overstuffed on Thanksgiving. Being a blended family with older children, these days are all interchangeable now and we might host Thanksgiving on Friday, do appetizers Thursday or some combination of the two over the course of the long weekend depending on everyone's availability and ability to travel to our cottage in Michigan where we love to spend the holiday.
These Thanksgiving side dishes are meant to save time on Thanksgiving and can be prepped in advance the day before and popped in the oven on Thanksgiving. These sides look super tasty and super easy so you can spend more time with family and friends and less time in the kitchen! For most of the options, I included a vegetarian-friendly recipe, too. Whenever a Thanksgiving side calls for chicken broth, I sub vegetable broth to make it veggie-friendly for my daughter.
Ready to get cooking?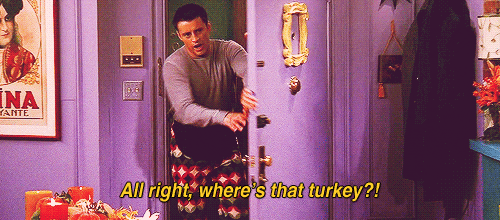 Make Ahead Mashed Potatoes
These Mashed Potatoes can be made up to three days in advance, making it easy to get started with Thanksgiving prep earlier in the week. With a hint of nutmeg, these are perfect for Thanksgiving. The breadcrumb topping goes on just before baking, so save that step for the last minute! (Also, a word from my past experience making make ahead mashed potatoes: make sure to mash and assemble your potatoes as soon as they are done boiling. If you let them cool at all they get pasty and no one wants that!)
Loaded Thanksgiving Mashed Potatoes
If your crowd prefers mashed potatoes that are loaded with goodies these Mashed Potatoes with Bacon, Cheese and Green Onion from Taste of Home are really good! We have a vegetarian in the family, so I leave the bacon off of her small dish. 😉 These potatoes can be refrigerated up to a day in advance.
Sweet Potato Pecan Casserole
It wouldn't be Thanksgiving without a side dish of baked sweet potatoes! This Crunchy Sweet Potato Casserole with Pecan Topping by the Cookie Rookie can be made the day before and refrigerated or even more in advance and frozen. The Cookie Rookie has all of the prepping/baking info in this link.
Southern Thanksgiving Sweet Potato Casserole
This tasty dish is always a hit with kids and everyone who has a sweet tooth and southern roots! This Southern Sweet Potato Casserole by Loaves and Dishes is topped with mini-marshmallows and pecans. You can prep this dish up to 2 days in advance, and you can use fresh or canned sweet potatoes!
Make Ahead Stuffing
How delicious is this Make Ahead Stuffing from Lisa over at Wine & Glue? It is made with French bread and turkey sausage, which is sooo delicious! You can make this side dish the evening before and refrigerate overnight.
Wild Mushroom Herb-Bread Stuffing
Oh my…this looks amazing! I very well might make this for our Thanksgiving dinner. This Wild Mushroom Herb-Bread Stuffing from Better Homes & Gardens uses focaccia bread and gruyere cheese for a most flavorful dish- and it is vegetarian-friendly, which makes this an easy dish to make for our family. Refrigerate at least 2 and up to 24 hours before baking.
Corn & Bacon Casserole
This Corn & Bacon Casserole from A Family Feast looks a.maz.ing. I love dishes that use fresh corn off the cob- it is so much tastier than the canned version! The recipe does not say it can be refrigerated, but there is no reason why it can't be. I would refrigerate this for up to 24 hours before the final baking- and I just might this year!
Make Ahead Green Beans
The Cafe Sucre Farine has a delicious recipe for Green Beans with Lemon Panko Breadcrumbs. Topped with a lemony butter sauce, these beans can be made a day in advance.
Roasted Mushrooms
Roasted mushrooms with tasty browned butter, garlic and thyme sauce is a savory side that your guests will love! There is no reason these can't be made in advance and heated before serving- I'd make these a day in advance. Closet Cooking has the full recipe.
Cranberry Sauce with Orange
This Cranberry Sauce from Culinary Hill is sweetened with orange juice rather than sugar, making this a healthier alternative to most recipes. Ready in 10 minutes, you can make this recipe in advance, too!
Make Ahead Cranberry Sauce
This cranberry sauce recipe is cooked in orange juice, marmalade, brown sugar and allspice- among other yummy ingredients! Get the recipe over at Major Hoff Takes a Wife.
I think I need this cranberry sauce dish! Don't you love the Mud Pie brand? Everything is so cute!
Fried Turkey? Yes, please!
And last, but not at all least, my very favorite time-saving tip for Thanksgiving is fried turkey! We bought a turkey fryer years ago and we are not looking back. We did it out of the need to save time when we were traveling with young kids and new we wouldn't make it to our cottage until late the night before or the morning of Thanksgiving. There are many reasons to try a turkey fryer:
It is a total time saver. A 12-pound turkey is cooked to perfection in 36 minutes. That's right- 3 minutes per pound!
The turkey is NOT greasy. You may think it would be, but it is absolutely not! It's not breaded, so it's not like fried chicken. It is truly delicious!
By cooking the turkey in the fryer, you have room in the oven for all of your side dishes.
My husband is the Turkey Frying King. That means he fries the turkey. He is delighted to hang out by the fryer with the guys and have a beer or two while the bird cooks.
Intrigued? I thought you may be! This is the set up we have:
It has everything you need to make the perfect turkey. The hose hooks up to the propane tank from your grill, which makes the flame to boil the oil. We use this for seafood boils and also for frying fish, too! You can purchase the fryer here and the oil here.
Are you ready for more seasonal ideas? Then you won't want to miss these posts!
12 Gorgeous Thanksgiving Tablescapes Perfect for Every Decor Style
10 Rustic Fall Signs You Need For A Cozy Home
16 Gorgeous Fall Porches
18 Spooky & Kooky (and Mostly Healthy) Halloween Food Ideas
10 Fantastically Frightening Halloween Décor Ideas for Your Home
And, be sure to check out our Thanksgiving & Fall and also our Halloween boards on Pinterest! There are hundreds of ideas from other great bloggers!
---
Sign Up to Receive More Posts Like This One
Sign up to receive more posts like this one!