This post may contain affiliate links, which means I make commission (at no cost to you!)
if you purchase through the link. Read our affiliate disclosure here.
'Tis the season for holiday parties…and potentially awkward social situations. Better to be prepared than to look like this…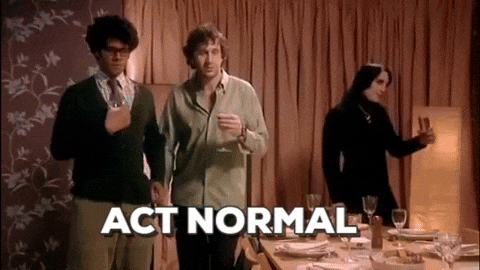 Yep. Acting "normal" doesn't come easy to everyone! As someone who is not a fan of getting together in large groups of people I don't know I can relate! Small groups? Totally fine. People I know? Totally fine. 50 people at an office party? Do I really have to go? It's never been my thing, but duty calls and sometimes you have no choice but to attend gatherings that are larger than you'd prefer.
You know the scene: you're attending a holiday party with your SO or a friend and inevitably you're going to find yourself alone at some point. Rather than staring awkwardly at whoever approaches you, it's best to have some ice breaker questions.
The best offense is a good defense, right? Of course you're not going to remember alllll of these, but read through them, pick a few that you find interesting (AND that you can answer in return because if you ask you'll probably be asked the same question back, so have an interesting answer!)
So here we go with some ice breaker questions that are perfect for the upcoming holiday party season:
Feeling a little less <ack!!> about your upcoming holiday party circuit? With a little prep you will be looking like a party conversation pro in no time. My favorites are how do you know the host/hostess, what gift are you giving that you are most excited about, and what's your favorite podcast. It's best to have 2 or 3 questions in mind to keep the conversation flowing.
Need some gift ideas? Check out our post on 12 DIY Gifts Your Girlfriends Will Love! (<– these are gifts they will actually WANT too!)
Ready for more holiday inspiration? Be sure to take a look at our Christmas board on Pinterest. It has hundreds of pins from hundreds of great bloggers!
---
Sign Up to Receive More Posts Like This One
Sign up to receive more posts like this one!