This post may contain affiliate links, which means I make commission (at no cost to you!)
if you purchase through the link. Read our affiliate disclosure here.
I love decorating for each season and most holidays, and Christmas is no exception! I had so much fun creating our Thanksgiving tablescape…and totally forgot to take a picture of it! I was so annoyed the next day when I realized. Thanksgiving was a little crazy around here! So, Christmas will be Round 2 and I'm ready to start gathering ideas. Of course, I'm turning to Pinterest for inspiration because that's where I turn for just about everything!
Lately my style has been a little eclectic and I am like modern farmhouse, regular old farmhouse, MCM, rustic, boho, you name it and there's probably something about the style I will love. It's hard to narrow things down sometimes! These Christmas tablescapes are perfect for all different styles- I hope you find one you love!
Are you ready to kill it this Christmas? Yes you are.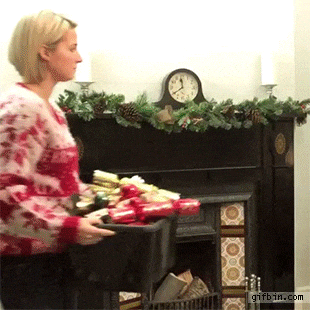 Christmas Tablescapes
Simple White Tablescape
I love the simplicity of this tablescape featured in Rue Magazine. The fresh greenery really livens up basic white linens and plates. Bonus points for whoever can tell me what this greenery is? This is what I used in my Thanksgiving tablescape, but I'm not sure what it's called! I love it's coloring. It has lasted a couple weeks past Thanksgiving in vases, too!
Rue Mag
Minimalist Tablescape
This is simply stunning and would be so easy to put together even at the last minute. The brass candle holders are lovely, but any neutral candlesticks would work. And the pomegranates add a nice touch of red, and you can have them for lunch the next day!
Julie Blanner
Traditional Tablescape
If your style is more red & green traditional, this tablescape is perfect! If you're traditional you may have a plaid Christmas runner, but if not you can order one fairly inexpensively. This Christmas garland is perfect and can be dressed up with ornaments straight from your tree!
Rustic Glam Tablescape
Wood tables are naturally beautiful, so if you have one, use it! Fresh greenery and taper candles add traditional charm to this tablescape and the wood slice charges add the perfect amount of rustic. If DIY chargers are not your thing, you can order them here. (These chargers are perfect for Thanksgiving & Easter, too!)
Intimate Weddings
Don't Forget the Kids Tablescape
How perfect is this for the kids' table? It's easy and has activities to keep the kids occupied while the adults enjoy some adult conversation over cocktails. Need some more ideas for the kids? The Measured Mom put together this list of 40 printables to keep the kids busy! If you're having trouble finding wide enough kraft paper locally you can order it here.
Simply Sweet Soirees
Elegant Tablescape
This is soooo pretty! And it would be soooo easy, too! A box of gold & white ornaments and you're halfway there. A trip to your local florist or the floral department at your grocery store and you're all set! I love the ornament name cards, too. Such a cute take away for guests, too.
Setting for Four
Vintage Modern Tablescape
If you have a secret stash of vintage bottle brush trees, now's the time to bring them out of the attic and onto your table. How whimsically wonderful is this tablescape from Coco Kelley? Start, or supplement, your tree collection with these fantastic pink trees!
Buffalo Check Tablescape
I LOVE buffalo check. I keep meaning to incorporate it into my decor, but so far I haven't really found a space for it. Maybe on our Christmas table… This buffalo check table runner is $9! Why don't I have this? And here are 12 red napkins for $12. For $20, you're practically done. So easy!
Just a Girl & Her Blog
Pretty in Pink Tablescape
If you're into girly glam, this is for you! I don't know what's gotten into me lately, but for the past 6ish months I have been loving pink. This is soooo pretty! And super easy, because it's really just pink ornaments and roses. Add to each table setting with these beautiful linen napkins folded into Christmas trees!
Pinterest
Easy Christmas Tablescape
If you hav mason jars, this tablescape will be perfectly easy to pull off. If you don;'t have mason jars, good news- they are super cheap. Filled partially with fake snow and topped with either votive candles or fresh cranberries and greenery, this tablescape will come together quickly and easily.

Yellow Bliss Road
If you would like more holiday ideas, be sure to take a look through our Gifts and Christmas boards on Pinterest! There are hundreds of ideas from other great bloggers.
Ready for more holiday inspiration?
Check out our Holiday and Seasons section on the blog for more ideas! You'll find our 10 Christmas Mantles (+bonus decorating hacks!) post and also our Winter decor post – Decor to Last the Whole Season!
And don't forget to start planning your dinner menu! These 10 side dishes are perfect for Christmas dinner AND you can make them ahead of time. 🙂
---
Sign Up to Receive More Posts Like This One
Sign up to receive more posts like this one!