This post may contain affiliate links, which means I make commission (at no cost to you!)
if you purchase through the link. Read our affiliate disclosure here.
No time for a manicure?No problem! These DIY holiday nail styles are perfect for all of your Christmas events from your office party, to drinks with girlfriends, to Christmas dinner, these nails are a Perfect Ten!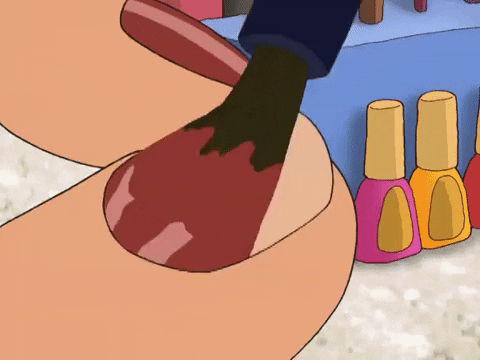 Holiday Nails
Green & Red Glitter
This is super easy with a clear coat and then a top coat of positioned red & green glitter polish!
Glitter and Nails
The Perfect Gift
These would be really easy with a nail polish pen.
Get the look: Essie Silver Glitter Polish, Julep Red Glitter Polish, Red Nail Art Pen
Crazy for Us
Polka Party
I love polka dots & these are so cute! Easy enough for a DIY, too.
Get the Look: white nail art pen, gold nail art pen, silver nail art pen
Glaminati
Just a Girl and Her Nails
Santa, Baby
These Santa hats are fun! So easy with painters tape and a white nail art pen.
Attireal
Plaid Party
Look at this! So cool. And there's a tutorial, too. This might take a little longer, but it's worth it! The instructions call for a nail striper, which is apparently a brush for painting thin lines.
Julep
Santa's Belly
I love these! They are so simple and classy. I like the darker red instead of the usual bright "Christmas red." You'll need a fine tip gold paint pen for the buckle!
Canadian Family
Jade + Gold
If you're looking for something different, this pretty jade green is a nice change from red!
Catt Sadler
Christmas at Tiffany's
I am in love with aqua and red, so this is perfect for me! Of course Essie makes the perfect Tiffany blue polish, too.
Nails by Arelis P
Ruby Red Slippers
This is by far the easiest DIY holiday nails of all- it's just one color, but it's the perfect color to go from work to party to dinner. Link to polish here.
Frm Head to Toe
These are also perfect to transition from day into evening! Did you know you can make any nail polish have a matte finish with a matte topcoat?! Yup! So much fun.
Emma Does Nails
Which is your favorite? I am currently wearing matte black with one platinum glitter nail- and loving it! I'm a little partial to the last idea with the dark red matte & gold glitter tree!
If you would like more holiday ideas, be sure to take a look through our Gifts and Christmasboards on Pinterest! There are hundreds of ideas from other great bloggers.
Ready for more holiday inspiration? Check out our Holiday and Seasons section on the blog for more ideas! You'll find our 10 Christmas Mantles (+bonus decorating hacks!) post and also our Winter decor post – Decor to Last the Whole Season!
---
Sign Up to Receive More Posts Like This One
Sign up to receive more posts like this one!